Turkey, Sides & Wine – Oh My!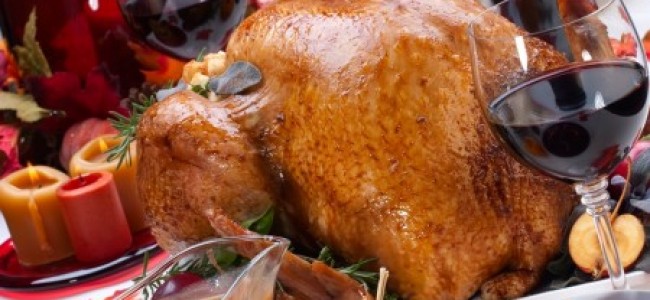 The holiday season is upon us and as we prepare ourselves for the hustle and bustle of shopping and socializing, the wine lovers among us are probably giving careful consideration to the wine(s) they would like to serve with Thanksgiving dinner.  If you're a casual wine consumer, the thought of serving wine for Thanksgiving is probably a bit intimidating and you may not know where to begin.  After all, the usual guideposts for pairing wines with meals are not easily applied to Thanksgiving dinner. The paragraphs below provide some guideposts and suggestions for selecting a wine that will pair well with the turkey, all the sides and even desert.
The many varieties of foods served at Thanksgiving and the rich spices used to prepare them can present quite a challenge for the person selecting the wine to serve.  As a general rule of thumb, you should avoid very dry wines like Chardonnays. Shayn Bjornholm, the sole Master Sommelier in the state of Washington recommends a Pinot Noir above all other wines and cautions "Super-dry wines can die in the presence of all that fruit, sugar, and salt.  "He also considers "White wines with a little residual sugar can be your friend." Reds are harder to pair, because most are dry. Whether you're serving white or red, the wine needs to be fruity.[1]  Keeping these guideposts in mind, brief descriptions of a few varietals that won't get lost on your palate during Thanksgiving dinner are provided below.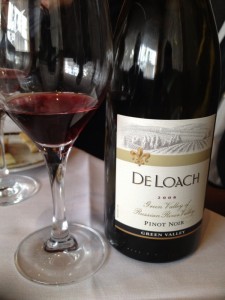 Pinot Noir – low tannin red with hints of cherry and cranberry to complement the turkey and rich spices of traditional side dishes. Pinot Noir tends to be lighter bodied than many of its red wine counterparts. It's the combination of great acidity, silky tannins and distinct body that make it so successful for pairing with a tremendous variety of favorites.  One of our personal favorites is the DeLoach Pinot Noir, which can be purchased from our Boisset portal.  Click this link to place your order
Guewiertzhaminer –  Gewurzt" means spice in German, alluding to the flavors and aromas of this wine and its country of origin. [2] It is a tremendously fragrant grape with a flamboyant aroma that recalls roses, lychee nuts and spices like clove and allspice.  The hints of sweet and spice of this wine make it a great choice of Thanksgiving dinner.
Moscato – is best known as a dessert wine is noted for its surprising perfume-like fragrance, light-body, semi-sparkling, spritzy character lower alcohol content.  Moscato's flavors are extraordinarily fruit-filled. While the Moscato sold at the lower price points typically exhibit a fruity focus with a decent dose of sweet in the mix, the higher quality Moscato steers quite clear of sugar-soaked fruit and brings a vivid spotlight to ripe stone fruit, with apricots and peaches.  Each of these characteristics makes it a wonderful choice to pair with desserts after Thanksgiving dinner.
Of course beyond the traditional turkey and dressing, individual families have their own traditional holiday meals.  Don't be afraid to offer wine to your guests at Thanksgiving using the general guidelines above.  If you need more guidance on the final selection, venture in your nearest wine store and engage a salesperson in conversation.  If you provide a brief description of your dinner and purchase price point, a seasoned salesmen will be able to guide you to a Pinot Noir, Guewiertzhaminer and Moscato to serve. Of course there are other varietals such as Sparklings, Riesling and Syrah to consider as well.  Just remember to select a low tannin wine, with generous acidity and residual sugar.
[1] Scnheider, Sara, "Great wines for Thanksgiving," http://www.sunset.com/food-wine/wine-pairings/great-wines-thanksgiving-00400000013444/
[2] "CALIFORNIA GEWURZTRAMINER: Food pairing pointers," Lynne Char Bennett.  http://www.sfgate.com/wine/pairings/article/CALIFORNIA-GEWURZTRAMINER-Food-pairing-pointers-2760243.php