BOISSET WINE AMBASSADORS

BOISSET WINE LIVNG AT HOME
 Always the innovators, the Boisset Family has developed a way to bring their exquisite wines from Napa and the Russian River Valley to you in the comfort of your home.  Are you planning a girls' night or just looking to spend some fun time with your friends in the neighborhood?  The Boisset Wine Living Tastings are perfect for a gathering of 7-15 guests.
As your Boisset Ambassadors, the VN Team will present JC's Picks Collection, which are a selection of quality wines produced in small quantities and personally selected by Jean Claude Boisset to be offered to Wine Living at Home guests.  You and your guests are sure to thoroughly enjoy this phenomenal wine tasting experience.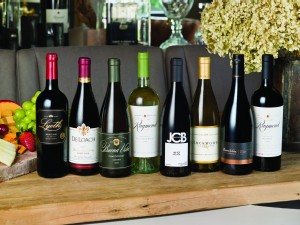 SCHEDULE YOUR WINE TASTING TODAY
As Ambassadors for Boisset Family Estates, Vino Noire is able to help you plan and host a wine tasting in your home or office setting. Host a tasting and receive a 50% discount on your purchase of wine by the bottle or case!
Glynis' expertise as a wine educator takes our wine tasting experiences to the next level.  We promise a titillating tasting experience for you and your guests and we are here to assist with the planning. All you have to do is follow this link  to our Ambassador's page to get the experience started.