GET NAKED!!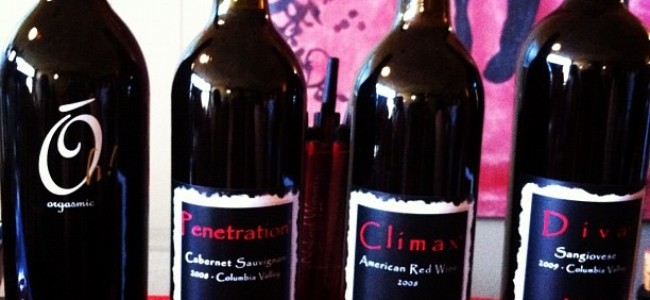 Ok we don't literally mean to get naked or at least wait until you have finished reading the entire blog post…LOL!! We want you to take the time to get to know Naked Winery wines, from Hood River, Oregon, first. The Vino Noire Team is quite fond of Naked Winery because their mission is quite similar to our own. Naked is committed to making wine fun, sexy and entertaining.
What better way to remove the average person's apprehension over selecting wines than to reference bare skin? With names like "Penetration Cabernet," "Foreplay Chardonnay," and "Tease Riesling," one can't help but wonder what's behind the label of these wines. Glynis, our Resident Expert, had the pleasure to meet the owners from Naked Winery and sample their wine. In her words, Naked Winery wines are simply "OUTSTANDING!" Admittedly, Glynis has a very refined wine palate but one of the things she likes most all about Naked Winery is the quality of their wines and the price point for the casual wine drinker.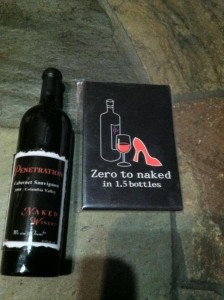 The genius of the Naked Winery team extends beyond their sizzling wine labels and sexy marketing approach. They developed several "lines" of wines that appeal to a whole spectrum of wine consumers – from the casual through connoisseur.
Their "Outdoor Wine" brand is a marketing GENIUS; the wines are bottled in PBA-free plastic bottles that are perfect for outdoor activities. The plastic bottle in no way compromises the quality of the Wanderlust White, the Picnic Table Pink (rose) or the Rambling Red wines inside the bottle. Each is blended and balanced so that they complement a wide range of foods that are typically served at outdoor events.
Moving to the next line of Naked Winery wines, you will find this also includes reds, whites, and roses. The Naked label is traditionally glass bottled, yet is still quite affordable. They are moderately priced from the $18-$35 range and are full bodied and delicious.
The most tantalizing of the lines bottled by Naked Winery are the Orgasmic wines. Yes, we said orgasmic and they are so named because they are truly exceptional and stimulating. The Orgasmic line was created with the wine connoisseur in mind. The price point for Orgasmic wines ranges from $50 to $80 per bottle. If you are looking to create an alluring ambience for that someone special, then one of the Orgasmic wines is just the thing to take the evening over the top.
Vino Noire urges you to Get Naked with Naked Winery. You can access more about "How to Get Naked" by clicking on the following link: http://www.nakedwinery.com.