WELCOME TO THE J SPOT – J WINERY THAT IS!
A little over a year ago, the Vino Noire (VN) Team had the opportunity to visit.  J Winery & Vineyards located in the Russian River Valley AVA region in Sonoma County, California.  We absolutely fell in LOVE with the ambience of the winery and the sophistication of the wines offered by J Vineyards & Winery.  So, you can imagine our excitement, when we recently connected with J Winery over Twitter and their marketing team agreed to let VN review their wine here on our blog!!  Of course we are honored and excited to share our insights with you about one of our favorite vineyards!  Please click on the following link provided to access their website  http://www.jwine.com/Default.aspx.  We are sure you will be as impressed as we are  with what "J" has to offer!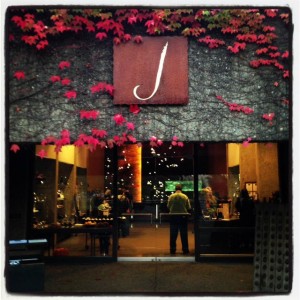 J Vineyards & Winery was founded in 1986 and the winery first gained critical acclaim for its sparkling wines such as J Vintage Brut, J Late-Disgorged Vintage Brut, Brut Rose and Cuvee 20 Brut.  The winery has since been recognized for other varietals like its Pinot Noir, Chardonnay, Pinot Gris, and Pinotage.  The vineyard grounds are beautiful and the tasting room will have you swooning over the elegant architecture, design and art.  In fact, Sunset Magazine named "J" the Best Tasting Room in the West.
When we think of J Vineyards & Winery, we think swanky and sophisticated.   J Winery's Pinot Gris

 reflects the elegant character of the vineyards and winery.  The Pinot Gris is a delightful dry white wine with very pleasing tropical fruit notes.  This fun white is aged and fermented in stainless feel and has wonderful aromas of pineapple, apricot and lime.  On the palate it is medium bodied with well-integrated acidity.  It feels tantalizingly crisp in the mouth and finishes nicely with notes of grapefruit and lime.  The characteristic of the J Winery Pinot Gris pair nicely with seafood and pasta, and is an excellent wine to serve while you're entertaining over the holidays.  Its light hearted nature will complement your appetizers and add to the festivity of your holiday gatherings.
J Vineyards & Winery is one of VN's favorites and we encourage you to explore more of their still and sparkling wines over the holiday season.  In fact, stay tuned for next months blog entries when we get to "SPARKLE" and devote the entire month to "Flights of Fancy" and feature the J Winery Cuvee 20 Brut!